Dire Foes Mission Pack 3: Dark Mist - Mission Packs - Infinity
011003INF282001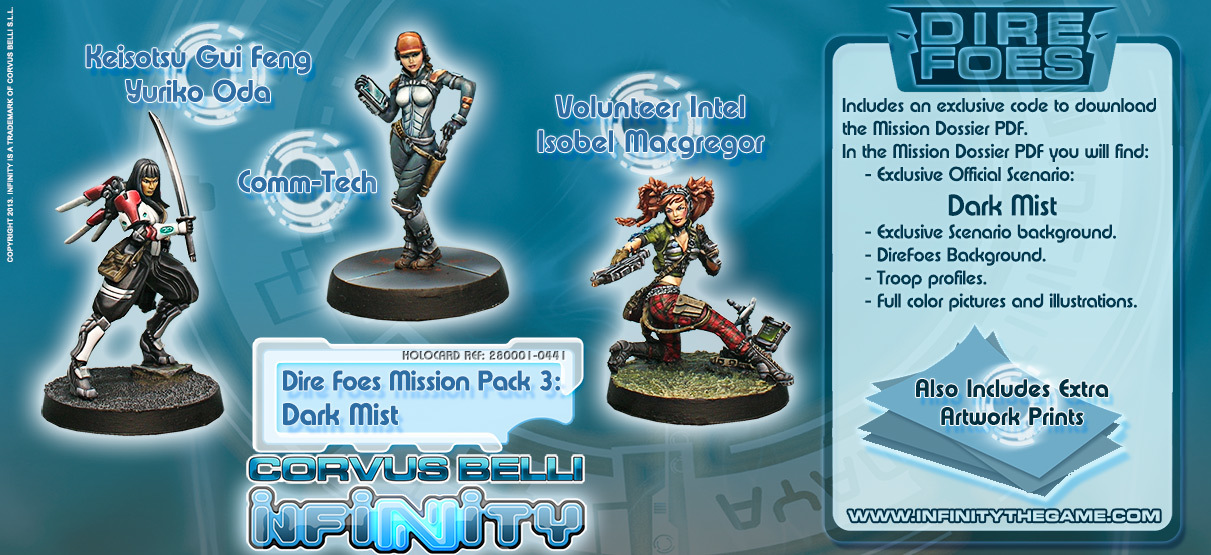 Material: Metall
Miniaturen: 3
Intel Isobel MacGregor
an expert Caledonian data-thief
Gui Feng Yuriko Oda, elite saboteur and Kempeitai killer
Clandestine actions into the deepest darkness! Intel Isobel MacGregor, an expert Caledonian data-thief, and Gui Feng Yuriko Oda, elite saboteur and Kempeitai killer, fight each other in the deepest darkness, and a poor Comm-Tech is caught in the middle of their struggle! To know what the final result of the "Dark Mist" mission will be, play this new scenario with its true protagonists!
Die Figuren werden unbemalt geliefert und müssen zusammengebaut werden.
Die deutschen Infinity-Schnellstart-Regeln findet ihr hier.
You can find the rulebook and Quick-Start-Rules in english here.
Infinity ist ein Science-Fiction-Skirmish-Tabletop des spanischen Herstellers Corvus Belli mit einem neuartigen Regelsystem, das quasi simultanes Spiel zulässt und exklusiv bei Ulisses auf Deutsch erscheint.
©2014 CORVUS BELLI S.L.L. All rights reserved.
Produkt-Typ:Miniaturen
Miniaturen:3
Lieferzeit:2-3 Tage