Minion Efaarit Scout Resin - Hordes - Privateer Press
011001PIP75052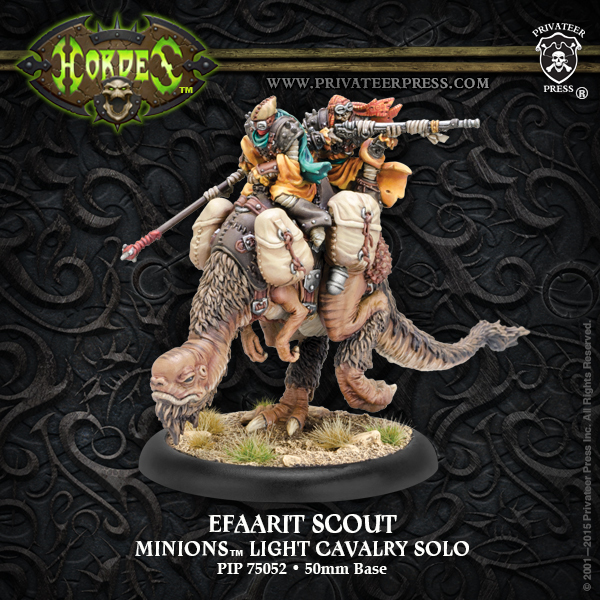 Minions

Figuren: 1

Base-Grösse: 50mm
Material: White Metal + Resin
Tribal nomads native to the Bloodstone Desert, the efaarit are a hardy race of talented survivalists. Atop their belligerent bletcher mounts, efaarit scout teams cross even the most punishing terrain to outflank an enemy. Precise fire from their powerful hunting rifles can bring down even massive warbeasts, as these scouts target joints and gaps in their adversaries' armor with prodigious accuracy. The Efaarit Scout light cavalry solo comes in a blister (PIP 75052). A player may field up to two Efaarit Scout light cavalry solos for each warlock in a Circle, Skorne, Trollbloods, or Thornfall Alliance army.
Hinweis: Es handelt sich um ungefähre Grössenangaben. Die Miniaturen werden in mehreren Teilen geliefert, sie müssen zusammengebaut werden und sind unbemalt.
Das exklusiv bei Ulisses Spiele auf Deutsch erscheinende 30-mm-Tabletop Warmachine ist ein schnelles, hartes Miniaturenspiel in einer ungewöhnlichen Fantasywelt zwischen urwüchsiger Natur und Industrialisierung, zwischen Dampfkraft und Magie.
© 2012, Ulisses Spiele, all Rights reserved. / 2010 Privateer Press, All Rights Reserved.
Hersteller:
Privateer Press
Produkt-Typ:Blister
Miniaturen:1
Lieferzeit:2-3 Tage