Mars Attacks - Extermination - Mantic Games
001001MGMA03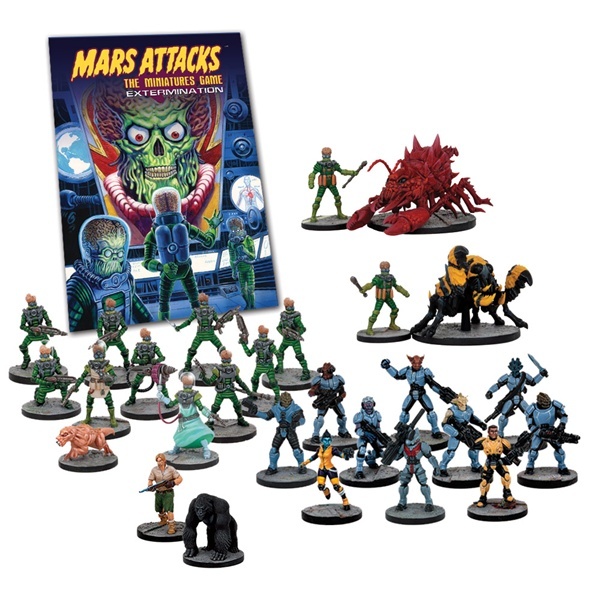 Anzahl Miniaturen: 27
Produkt-Typ: Erweiterung

Eine nächste Welle erreicht Greenville. Die wissenschaftliche Abteilung der Marsianer versucht mit allen Mitteln die Invasion zu unterstützten und den Job zu vollenden, den Tor angestossen hat. Mit im Gepäck haben sie riesige Käfer...
Novas Vira ist ebenfalls am aufrüsten und schickt den Tiger Corps ins Rennen. Unter der Leitung von General Jaret kämpfen diese Desperados schon seit Jahren gegen die Marsianer. Mit dabei der grösste nichtmenschliche Gegner der Marsianer, Tunga der Gorilla.
Zum Spielen wird eine Kopie des Mars Attack - Miniaturenspiel benötigt.
1 Extermination Rulebook, detailing:
new special rules
new characters and troops
new set of scenarios as the battle for Greenville continues.
Craig & Tunga, exclusive to the Humanity Resists boxed set
11 pre-assembled plastic Science Division Martians including:
Chief Surgeon Gorl & Wrex
Science Division Unit Commander
Science Division Engineer
Science Division Trooper with Heavy Blaster
6 Science Division Troopers
10 Clear plastic helmets
10 pre-assembled plastic Tiger Corps including:
General Jaret
Shadow
Barnabus
Drex
Zeke
Corus
4 Tiger Corps Bounty Hunters
4 pre-assembled plastic Giant Mutants miniatures including:
Giant Mutant Ant
Giant Mutant Spider
2 Science Division Handlers
2 Clear plastic helmets
Die Miniaturen sind unbemalt, werden in mehreren Teilen geliefert und müssen zusammengebaut werden. Die Figuren sind kein Spielzeug.
2014 The Topps Company, Inc. All Rights Reserved. MARS ATTACKS is a Registered Trademark of The Topps Company, Inc. Licensed by The Topps Company.
Sprache:English
Produkt-Typ:Erweiterung
Miniaturen:27
Lieferzeit:10-15 Tage (falls beim Hersteller an Lager)