Indian War Party - Muskets and Tomahawks - North Star Figures
012001MTB01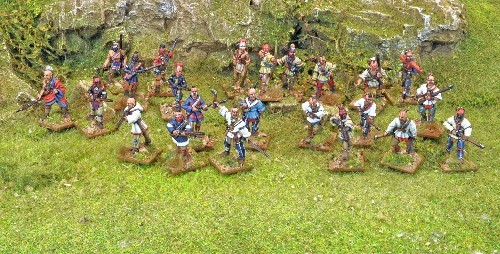 Material: Metall
Grösse: 28mm
Anzahl: 23
Während den "kleineren" Kriegen im 18. Jahrhundert in Nordamerika, spielten Kriegstruppen bestehend aus Ureinwohnern (Indianer) eine wichtige Rolle. Sie kämpften für die Briten, die Franzosen und für sich selbst.
Die Box beinhaltet 23 unterschiedliche Metall-Miniaturen, designt für War Partys im Spiel Muskets and Tomahawks. Sie entsprechen einer 200 Punkte Armee.
1x Sachem (War Chief)
4x Warriors with Trade Rifles
6x Warriors with Bows
6x Warriors with Muskets
6x Warriors with Muskets
23x plastic bases
Die Figuren werden unbemalt und in Einzelteilen geliefert und müssen noch zusammengebaut werden.
© 2015 Studio Tomahawk. / North Star Military Figures Limited.
Hersteller:
Studio Tomahawk
Produkt-Typ:Figuren
Miniaturen:23
Lieferzeit:2-3 Tage