Hordes Zweispieler Battle Box (plastic) - Starter - Hordes - Privateer Press
011001PIP70001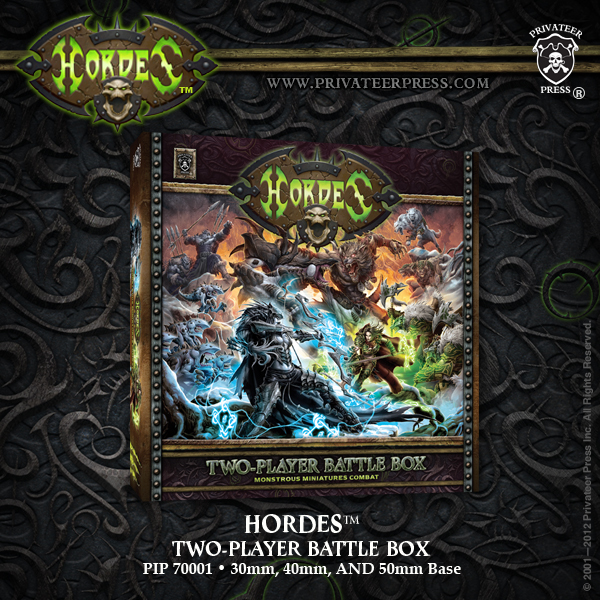 Hordes Zwei Spieler Box
HORDES Two-Player Battlegroup Box (plastic)
Inhalt:
Regelbuch (88 Seiten)
Deutsche Anleitung liegt bei. 20 Miniaturen, Würfel und Marker.
Folgende 20 Modelle:
Argus Leichtes Warbeast
Kaya die Wildgeborene Alternative Variante
Wilder Warpwolf
Winter Argus Leichtes Warbeast
Warpgeborene Wolfsmenschen Box
Schredder Niedere Warbeasts (4x)
Verdorbene Ogrun Kriegsspeere Box
Lylyth, Everblights Herold Alternative Variante
Carnivean

In a World Ravaged by Warfare, Fury is Your Greatest Weapon!
From the frozen northern wastes the Legion of Everblight descends upon Immoren, defiling the land with taint and corruption. Dependent upon nature but fueled by its raw and ancient power, the druids of the Circle Orboros clash with the dragon Everblight?s forces to halt the spread of the dragon?s blight. The irrepressible Kaya the Wildborne, flanked by her trusted pack of beasts, leads the Circle?s vanguard against twisted and bloodthirsty ogrun and dragonspawn led by the deadly Lylyth, Herald of Everblight.


Circle Orboros Models
Warlock Kaya the Wildborne
Feral Warpwolf heavy warbeast
Argus light warbeast
Winter Argus light warbeast
Warpborn Skinwalker unit (5 models)
Legion of Everblight Models:
Warlock Lylyth, Herald of Everblight
Carnivean heavy warbeast
4 Shredder lesser warbeasts
Blighted Ogrun Warspear unit (5 models)
Hinweis: Es handelt sich um ungefähre Grössenangaben. Die Miniaturen werden in mehreren Teilen geliefert, sie müssen zusammengebaut werden und sind unbemalt.
Das exklusiv bei Ulisses Spiele auf Deutsch erscheinende 30-mm-Tabletop Warmachine ist ein schnelles, hartes Miniaturenspiel in einer ungewöhnlichen Fantasywelt zwischen urwüchsiger Natur und Industrialisierung, zwischen Dampfkraft und Magie.
© 2012, Ulisses Spiele, all Rights reserved. / 2010 Privateer Press, All Rights Reserved.
Sprache:Deutsche Anleitung
Hersteller:
Privateer Press
Produkt-Typ:Starter
Miniaturen:20
Lieferzeit:2-3 Tage