Dire Foes Mission Pack 5: Viral Outbreak - Mission Packs - Infinity
011003INF282005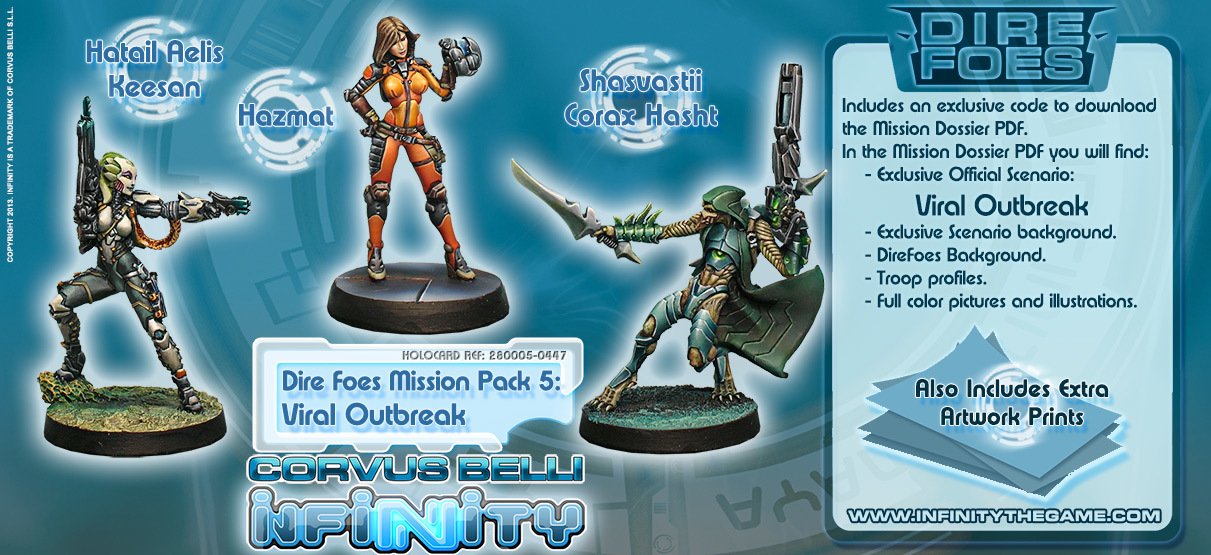 Material: Metall
Miniaturen: 3
Hatail Aelis Keesan
Shasvastii Corax Hasht
Hazmat
Another mission box providing two enemy characters and also a Civilian model, printed artwork and the code to download the scenario and background which will be not available in the Infinity website.
In Viral Outbreak, the opposing forces are the Tohaa and the Shasvastii. The HAZMAT A1 Specialists are called ?the ghosts of the dead zones?. And there, in such hostile environment, is where the Hatail Aelis Keesan and the perfidious Corax Hasht will resolve all their issues with blood and fire!
Die Figuren werden unbemalt geliefert und müssen zusammengebaut werden.
Die deutschen Infinity-Schnellstart-Regeln findet ihr hier.
You can find the rulebook and Quick-Start-Rules in english here.
Infinity ist ein Science-Fiction-Skirmish-Tabletop des spanischen Herstellers Corvus Belli mit einem neuartigen Regelsystem, das quasi simultanes Spiel zulässt und exklusiv bei Ulisses auf Deutsch erscheint.
©2014 CORVUS BELLI S.L.L. All rights reserved.
Produkt-Typ:Miniaturen
Miniaturen:3
Lieferzeit:2-3 Tage