Dire Foes Mission Pack 4: Flee or Die - Mission Packs - Infinity
011003INF282004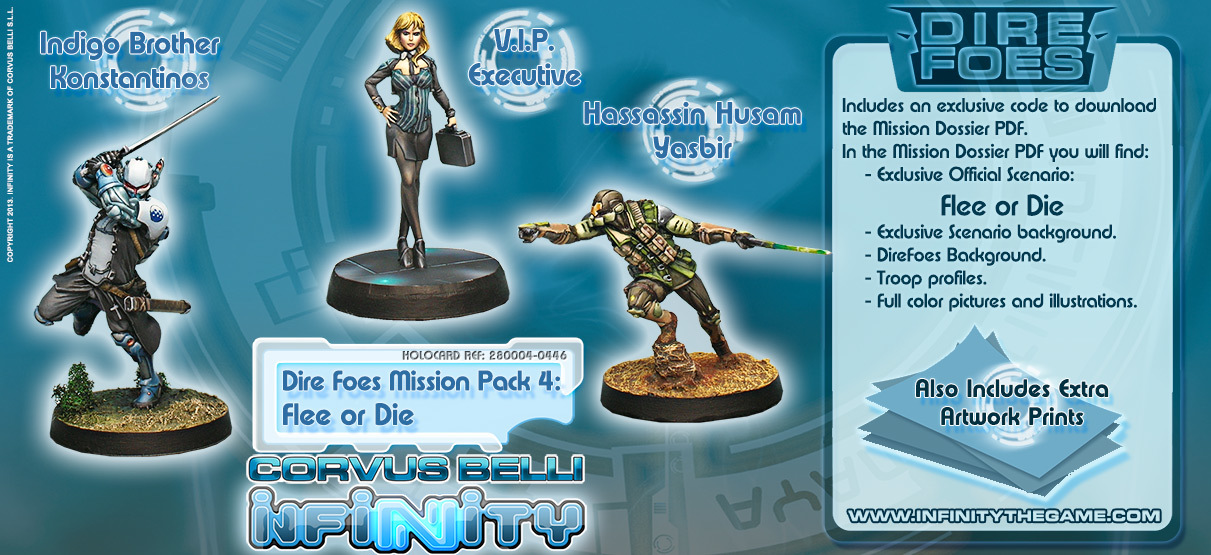 Material: Metall
Miniaturen: 3
Indigo Brother Konstantinos
Hassassin Husam Yasbir
V.I.P. Executive
A totally new mission box which contains a pair of enemy characters and also a Civilian model, with beautiful printed artwork included and the code to be able to download the scenario and background none of them will be not available in the Infinity website. In Flee or Die you will see the PanOceanian Military Orders fighting against the Hassassins.
Duel of Faiths! Boosted by the highest ideals, the Hassassin Yasbir and Brother Konstantinos fight for the life of the CEO of MagnaObra. Must she pay for the crimes of this corporation, or will she be protected? Who will prevail?
Die Figuren werden unbemalt geliefert und müssen zusammengebaut werden.
Die deutschen Infinity-Schnellstart-Regeln findet ihr hier.
You can find the rulebook and Quick-Start-Rules in english here.
Infinity ist ein Science-Fiction-Skirmish-Tabletop des spanischen Herstellers Corvus Belli mit einem neuartigen Regelsystem, das quasi simultanes Spiel zulässt und exklusiv bei Ulisses auf Deutsch erscheint.
©2014 CORVUS BELLI S.L.L. All rights reserved.
Produkt-Typ:Miniaturen
Miniaturen:3
Lieferzeit:2-3 Tage